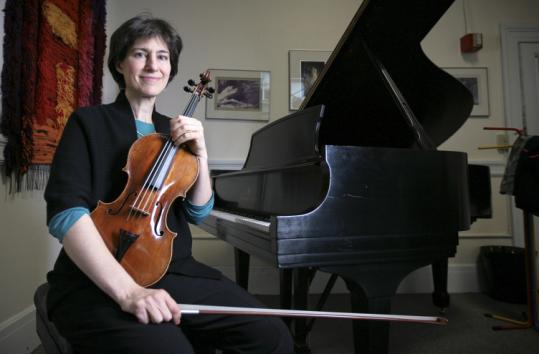 photo by Bruce Duffie
The Hayren Trio, who played at the Palacio Municipal, drew a warm reception from their Festival Audience. This was the second straight year that violist Kim Kashkarian performed at the FMM, in between winning the 2013 Grammy
Award
for Best Classical Instrumental Solo
for her album
Kurtág /Ligeti: Music for Viola.
Those of us who didn't know learned from the program notes that Armenia has a thousand-year-old musical tradition. For Armenians, half of whom live outside the ancestral homeland (half a million in the United States), playing an instrument springs from their rich musical heritage.
Kashkashian, the most widely-known classical musician, is only one of many of Armenian descent.
Pop singer Cher was
born Cherilyn Sarkisian.
What struck me most about the Hayren Trio, besides their music, was that their naturalness. They could have been playing in Kim's living room. Robin was at Tigran's side turning pages when she wasn't playing percussion. Kim wore black pants and a blue denim shirt with three quarter sleeves, the same garb she wore when Bruce Duffie interviewed her about her connection with Kurtag, a Hungarian composer whose work I first heard in Mexico. The fascinating interview is available on the internet.
The Trio played two pieces composed by Mansurian and two by Komitas Vartabed (1869-1935) who collected and transcribed Armenian music as well as adding to it. Like that of Philip Glass, Mansurian's musical output includes movie scores. The melodic music we heard at the Festival was written for concert audiences.
Three harmonious musicians before their concert